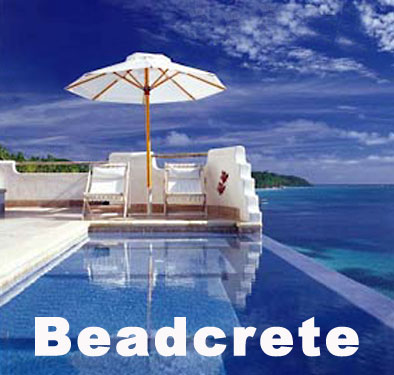 Beadcrete ® is the latest development in Concrete Pool Plaster
Beadcrete® looks remarkable under both natural and artificial lights. Beadcrete provides a superior color range including custom colors. The results are stunning. The surface has a 3-Dimensional effect. Available in a range of designer colours, this remarkable finish enhances the visual effect contemporary architecture demands.
Smooth, colourful and durable for new pools and renovating old concrete pools, spas, fountains & water features, etc.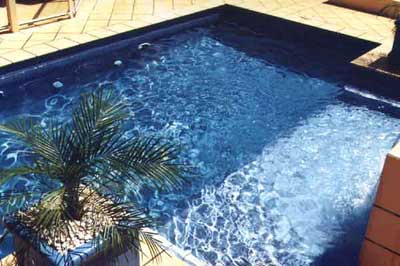 Beadcrete ® is the ultimate choice because:
Does justice to your designs -- a quality, classic finish that compliments today's outstanding pool designs and designer landscape architecture.
Beadcrete® flows with the shape of your pool, finished smooth and flat by steel toweling.
Beadcrete® can be applied to the tightest of curves.
It's your choice -- there is a comprehensive range of vibrant colors to choose from and custom color matching is available
Experience the added dimension -- refracting light dancing beneath the water's shimmering surface brings the pool "to life"
Easy on the skin -- smooth, non-slip, luxurious texture and "feel" &..No Band-Aids or socks required!
Accredited applicators -- only qualified, accredited tradesmen are allowed to apply Beadcrete® to your pool.
Above all - Relax & Enjoy -- polymeric cement modification means very low maintenance, highly stain resistant, lower chemical costs, increased durability and.....more time having fun!
Discover the difference yourself -- see some Beadcrete® finished pools, you can talk to those who own the pools, inspections by appointment.
Expect constant interruptions -- The drawing power of your Beadcrete® pool will mean friends and neighbors will find more time to drop in and say "Hello...".
With Beadcrete the options are endless...
Create sheer elegance using your creativity and our comprehensive color range. Complete the perfect entertaining lifestyle, admire, enjoy and relax. Please consult with your local installer for particular samples of their color range. Custom colors can be negotiated and arranged to fit any look you are trying to create.
If your pool contractor is unfamiliar with Beadcrete®, have him contact us for trade details, site inspections, application details and samples of our product.
Beadcrete ® Technical Information


Beadcrete pool plaster samples...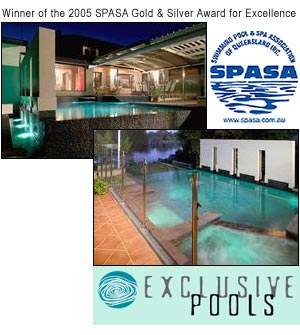 Geometric Pool & Innovative 6m x 4m Infinity edge pool with feature waterfalls into connecting pond, and underwater window with views to/from gamesroom bar. Finished with Beadcrete - Daintree.

We are happy to answer any questions you may have.

For enquiries concerning Beadcrete inspections, samples, contacting references, distribution opportunities, product diversification and specific installation procedures, please choose your nearest distributor.

Contact Distributors

Please spend a moment of your time and let us know what you think about our website.

Feedback Form
Beadcrete® Showcase
Magazine Features
Pool Photographs
see : Residential Pool Showcase
see : Commercial & Resort Showcase
see : Customer Testimonials