About our Company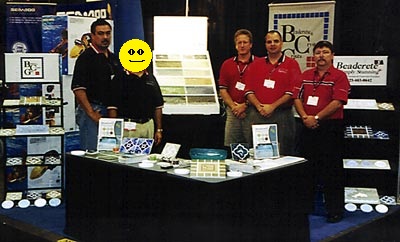 Beadcrete Trade Show in New Orleans
Beadcrete® was established in 1995 to meet market demand for a new high-tech surface finish for pools, traffic safety and architectural applications.
Only Beadcrete® offers the benefits of solid glass spheres locked into polymer modified cements. It has been well received in the community and has won a national award for 'Best Pool Technology' in Lifestyle Pool 2002 Awards. Beadcrete® is subject to patents worldwide.
The Beadcrete® surface finish system is available world wide, distributed through our licensees, and installed by accredited applicators. Please refer our contact details for a list of our worldwide distribution network.

Beadcrete Production - Hawaii



One of the Beadcrete Truck fleet
We are happy to answer any questions you may have.

For enquiries concerning Beadcrete inspections, samples, contacting references, distribution opportunities, product diversification and specific installation procedures, please choose your nearest distributor.

Contact Distributors

Please spend a moment of your time and let us know what you think about our website.

Feedback Form

Please contact Mr Peter Carden:

Carden Industries Pty Ltd.
E-mail: info@beadcrete.com

Carden Industries Pty Ltd.
Australian Company Number:
ACN: 089763306

Head Office Contact Form